RFB2008H
Micro Blower (High Speed)
Risun not only provides competitive prices, excellent quality but also helps customers solve technical problems, improve quality, reduce extra costs. Moreover, the slim and small design of the motors and fans assist customers to add value on their products. All in all, Risun's customers can gain more edge to win out in the keenly competitive market.
We also design and manufacture new dc brushless motors, micro cooling fans, or micro thermal solutions according to buyer's request. Your any requirement is hearty welcome.
Brushless Micro Blower is available for OEM and ODM Service.
High efficiency and low power
Brushless Micro Blower with high static pressure and low noise.
Self-lubricative bearing used for a long service life
Application
Brushless Micro Blower provides a premium electronic cooling solution for video processing chipset, high-speed memory module, high-end smart phone, PDA , CCTV, mini projector, MID, Smartbook and so on; and is also applicable to defrosting and ventilation of goggles or sunglasses, and fuel delivery of small fuel cell.
Size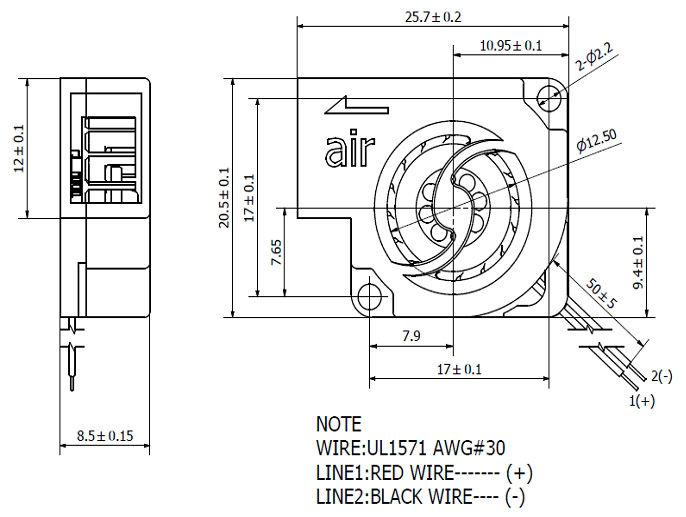 Dimensions and Specifications are subject to change without notice, please refer to the actual product.
Specification
Model Number
RFB2008H
Product Name
Micro Blower
Rated Voltage (VDC)
3.3
5.0
Operating Voltage (VDC)
2.8 ~ 3.6
4.5 ~ 5.5
Rated Current (mA)
98 (max:110)
140 (max:155)
Rotation Speed (RPM)
8,000±20%
11,000±20%
Air Flow (CFM)
0.48
0.65
Static Pressure (mmAq)
3.29
6.27
Noise (dB(A)) at 1m
18.2
20.8
Insulation Resistance
10MEGA. Ω Min. at 500VDC
(between frame and (+) terminal)
Dielectric Strength
5mA Max. at 500VAC、60Hz、One Minute
(between frame and (+) terminal)
Life Expectancy (hours)
20,000 at 45℃
Compliance
CE, RoHS
IP Rating
IP58
Weight (g)
3
Protection
Lock rotor, Auto Restart, Polarity
Specifications subject to changes without notice.
Operating Temperature:-10℃ ~ +60℃
Storage Temperature:-20℃ ~ +70℃
P-Q Curve