RVN1305
Brushless Vibration Motor
We have top-notch R&D team and sophisticated experience in manufacturing any kind of brushless motors, micro fan motors, and so on.
We also design and manufacture new brushless motors, micro cooling fans, or micro thermal solutions according to buyer's request. Your any requirement is hearty welcome.
Durable DC Brushless Vibration Motor
Brushless Motor with stable vibration and low EMI.
Low power and low wear
Brushless commutation and extra long service life (10 times longer than the brush-type counterpart in the On-Off life test)
Application
Brushless Motor is especially designed for portable electronics and hand tool use.
Size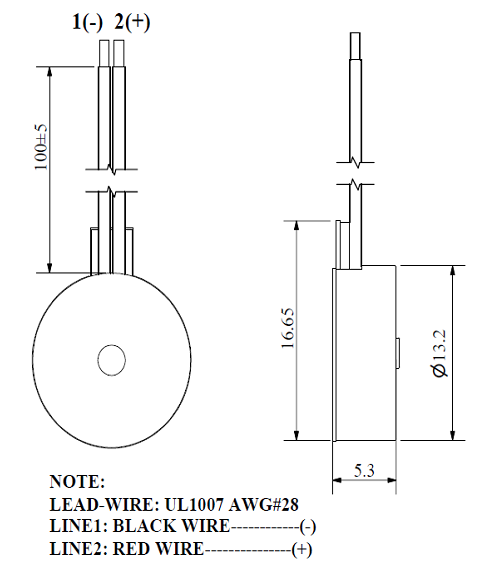 Dimensions and Specifications are subject to change without notice, please refer to the actual product.
Specification
Model Number
RVN1305
Product Name
Brushless Vibration Motor
Rated Voltage (VDC)
3.0
Operating Voltage (VDC)
2.8 ~ 3.3
Rated Current (mA)
48 (max:55)
Rotation Speed (RPM)
7,000 ~ 9,000
Vibration Intensity (m/s2)
3.0 ~ 9.8 MAX.
Load Mass (g)
25 ~ 100
Insulation Resistance
10MEGA. Ω Min. at 500VDC
(between housing and (+) terminal)
Dielectric Strength
5mA Max. at 500VAC、60Hz、One Minute
(between housing and (+) terminal)
Weight (g)
3.0
Compliance
CE, RoHS
IP Rating
IP57
Specifications subject to changes without notice.
Operating Temperature:-20℃ ~ +70℃
P-Q Curve