Single Micro Blower | Reputed Supplier
Risun Expanse Corp.
has earned a reputation to support the
single micro blower
,
micro blowers
we sell with the best technical support and customer service in the machinery & industrial supplies industry. Our team of quality controllers tests each product before delivering to the client in order to ensure its flawlessness. Please visit any of our great locations to see the latest products from manufacturers like
single micro blower
,
micro blowers
and many more!
RBS2218
Single Micro Blower
Risun is a professional manufacturer having capabilities of dc blowers design and pass production with the state of the art in production technology.
Risun not only provides competitive prices, excellent quality but also helps customers solve technical problems, improve quality, reduce extra costs. Moreover, the slim and small design of the motors and fans assist customers to add value on their products. All in all, Risun's customers can gain more edge to win out in the keenly competitive market.
As a professional dc blower supplier, we can also offer tailor-made service. OEM / ODM partners for cooperation are earnest welcome.
Low profile
Low power
DC Blower with high static-pressure.
Long service life
Efficient cooling
Application :
DC Blower is a high quality cooling solutions for high-speed memory module, CCTV, security surveillance system, LED lighting and small projector use.
Size :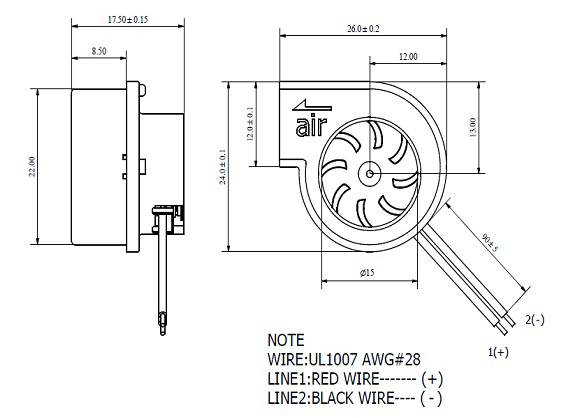 Dimensions and Specifications are subject to change without notice, please refer to the actual product.
Specification :
Model Number
RBS2218
Product Name
Single Micro Blower
Rated Voltage (VDC)
5.0
Operating Voltage (VDC)
4.5 ~ 5.5
Rated Current (mA)
78 (max:94)
Rotation Speed (RPM)
10,000 ± 20%
Air Flow (CFM)
0.68
Static Pressure (mmAq)
4.21
Noise (dB(A)) at 1m
29.4
Insulation Resistance
10MEGA. Ω Min. at 500VDC
(between frame and (+) terminal)
Dielectric Strength
5mA Max. at 500VAC、60Hz、One Minute
(between frame and (+) terminal)
Life Expectancy (hours)
20,000 at 45℃
Compliance
CE, RoHS
IP Rating
IP57
Weight (g)
7.5
Protection
Lock rotor, Auto Restart, Polarity
Specifications subject to changes without notice.
Operating Temperature:-10℃ ~ +60℃
Storage Temperature:-20℃ ~ +70℃
P-Q Curve :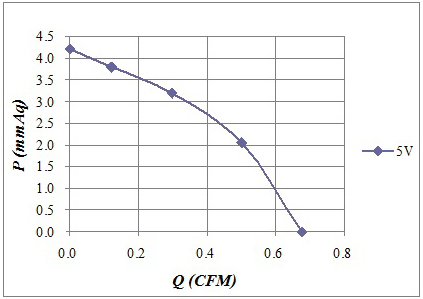 As an independent
single micro blower
integrator,
Risun Expanse Corp.
is free to specify and select the best of
micro blowers
regardless of the manufacturer. Our quality controllers perform a variety of quality processes in the entire production process in order to ascertain that only high-quality products are delivered at clients' end. We wish to create win-win relationships throughout the supply chain. It is our pleasure to service your
single micro blower
,
micro blowers
needs.