DC Blower, DC Brushless Atomic Blower Supplier
Since 1999,
Risun Expanse Corp.
has been a leading provider of personalized
DC blower
direct to the consumer. Our work is dedicated to the creation of progress with inspiring, innovative solutions and to a trusting partnership towards our customers and partners with common benefits. With many years of experience, we have the core technical knowledge for
DC blower
to satisfy our customers' demands.
RFB1804
Micro Blower
Risun is a professional manufacturer having capabilities of brushless atomic blowers design and pass production with the state of the art in micro blower production technology.
As a professional micro thermal solution supplier, we can also offer tailor-made service. OEM / ODM partners for cooperation are earnest welcome.
Extra mini and slim DC Brushless Atomic Blower is extremely suitable for portable Electronic devices use.
High efficiency and low power
High airflow and low noise
Self-lubricative bearing used for a long service life
Application :
DC Brushless Atomic Blower provides a premium electronic cooling solution for video processing chipset, high-speed memory module, high-end smart phone, PDA , CCTV, mini projector, MID, Smartbook and so on; and is also applicable to defrosting and ventilation of goggles or sunglasses, and fuel delivery of small fuel cell.
Size :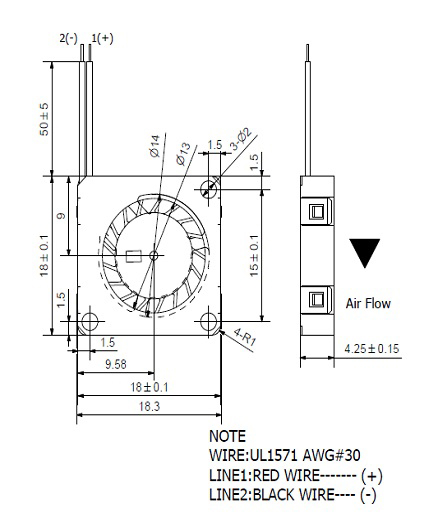 Dimensions and Specifications are subject to change without notice, please refer to the actual product.
Specification :
Model Number
RFB1804
Product Name
Micro Blower
Rated Voltage (VDC)
3.3
5.0
Operating Voltage (VDC)
2.8 ~ 3.6
4.5 ~ 5.5
Rated Current (mA)
35 (max:45)
50 (max:60)
Rotation Speed (RPM)
9,000 ± 20%
12,000 ± 20%
Air Flow (CFM)
0.23
0.33
Static Pressure (mmAq)
2.74
5.58
Noise (dB(A)) at 1m
15.1
20.4
Insulation Resistance
10MEGA. Ω Min. at 500VDC
(between frame and (+) terminal)
Dielectric Strength
5mA Max. at 500VAC、60Hz、One Minute
(between frame and (+) terminal)
Life Expectancy (hours)
25,000 at 45℃
Compliance
CE, RoHS
IP Rating
IP58
Weight (g)
1.74
Protection
Lock rotor, Auto Restart, Polarity
Specifications subject to changes without notice.
Operating Temperature:-10℃ ~ +60℃
Storage Temperature:-20℃ ~ +70℃
P-Q Curve :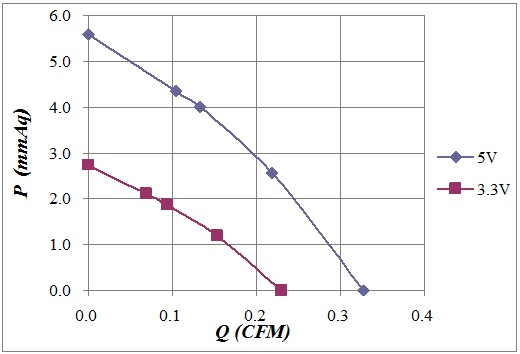 Micro Blower / Slim Blower
is being widely used today by businesses as a way to make
DC blower
can do a variety of other functions depending on what specific needs the business requires. To ensure that the requirements of this policy are met,
Risun Expanse Corp.
will keep providing and maintaining safe and healthy working conditions, equipment and systems of work, together with adequate information, instruction, training and supervision for all employees.